EXECUTIVE COMMITTEE
The Executive Committee implements the Group's strategy and oversees operational performance
The Executive Committee is the body that steers the Servier Group, implements the strategy and oversees operational performance. The Executive Committee is composed of 11 members and chaired by Olivier Laureau.
The members of the Executive Committee are also the Vice Presidents of the Foundation Council.
Olivier Laureau
President of Servier
Olivier Laureau is President of the Servier Group and the Servier International Foundation for Research.
A graduate of the Panthéon-Assas University in Paris, France, Olivier Laureau joined the Servier Group in 1982 in the Intellectual Property Department before joining the Legal Department where he oversaw international contracts. In 2000, he joined the Finance Department and was appointed Chief Financial Officer of the Group in 2008.
As President of the Group since 2014, Olivier Laureau has undertaken a holistic transformation plan to value Servier's independence, ensure the Group's development and sustainability and fulfil its vocation: committed to therapeutic progress to serve patient needs.
The major aspects of this strategy are to maximize the potential of the Group's medicines in cardiology, metabolism and venous diseases, to develop innovative and targeted therapies in the field of oncology, neuroscience and immuno-inflammation, and to drive the drug portfolio development, through a dynamic ecosystem policy, and a strong international expansion.
Deeply involved in the debates surrounding the healthcare sector at international level, Olivier Laureau is 2nd Vice-President and Board Member of the European Federation of Pharmaceutical Industries and Associations (EFPIA). He is also member of the Biopharmaceutical CEOs Roundtable (BCR), a global policy forum gathering CEOs of the member-companies of the International Federation of Pharmaceutical Manufacturers & Associations (IFPMA). In France, Olivier Laureau has been a member of the Board of Directors of the G5, an organization of leading French pharmaceutical companies, since 2014.
Dr Claude Bertrand
Executive Vice President Research and Development, Chief Scientific Officer
With over 25 years' experience in research and development and international operations within a number of leading pharmaceutical groups (Novartis, Roche, Pfizer, AstraZeneca and Ipsen), Claude Bertrand joined Servier in 2017 as Executive Director R&D and Chief Scientific Officer.
In 2018, he was appointed to the Group's Executive Committee and the role of Executive Vice President Research and Development.
Claude Bertrand also sits on the boards of directors of Eclosion2 and MAAT Pharma. He is President of the scientific committee of LabEx Medalis and Vice President of MEDICEN.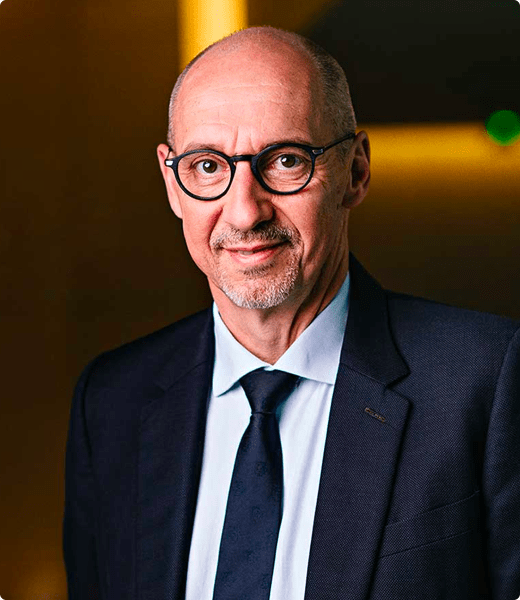 After graduating as a Doctor of Pharmacy from the University of Strasbourg, he completed a PhD and continued onto postdoctoral studies at the University of California, San Francisco, conducting research in immunopharmacology and neurogenic inflammation.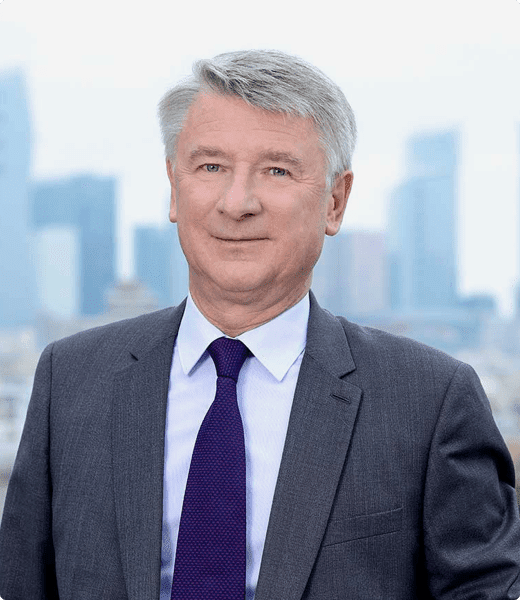 Nicolas Bouts
Executive Vice President Human Resources
Nicolas Bouts started his career as a legal practitioner, before joining the Servier Group Human Resources Department in 1985. He became Deputy Director in 2000, Director in 2004, and was appointed Executive Vice President Human Resources in 2007.
As part of the Group's transformation, Nicolas Bouts developed a range of new HR practices to further unlock the potential of every Servier employee, boost employee engagement, build the core skills required for the future and foster tight-knit relations with the Group's various business lines. As Executive Vice President Human Resources, Nicolas Bouts seeks to give meaning to employees' day-to-day work and encourage everyone to help the Group fulfill its vocation: committed to therapeutic progress to serve patient needs.
Nicolas Bouts also oversees the company's Corporate Social Responsibility (CSR) strategy. He is particularly involved in issues relating to employee health and safety, skills development, diversity and inclusion within the Servier Group, as well as skills-based sponsorship, so as to build long-term performance and generate a positive impact.
Pascal Brière
Executive Vice President Generic Activities
Having studied pharmacy, Pascal Brière started his career in Belgium in a major French pharmaceutical group before he set up Qualimed, one of the first generic medicine laboratories in France.
After joining the Servier Group in 1996, he set up Biogaran to further expand the availability of generic medicines in France and became President of the laboratory.
In 2020, the Servier Group decided to bring together its generic activities under a single governance structure, headed by Pascal Brière.
He was consequently appointed Executive Vice President Generic Activities – a role that covers Biogaran, Egis in central and Eastern Europe, Pharlab in Brazil and Swipha in Nigeria.
Moreover, Pascal Brière co-founded the GEMME (Génériques Même Médicaments) association in 2002, where he served as President between 2006 and 2015. It was as Vice President of Economic Affairs at GEMME that he played an active role in driving progress in the regulation of biosimilar medicines in 2021.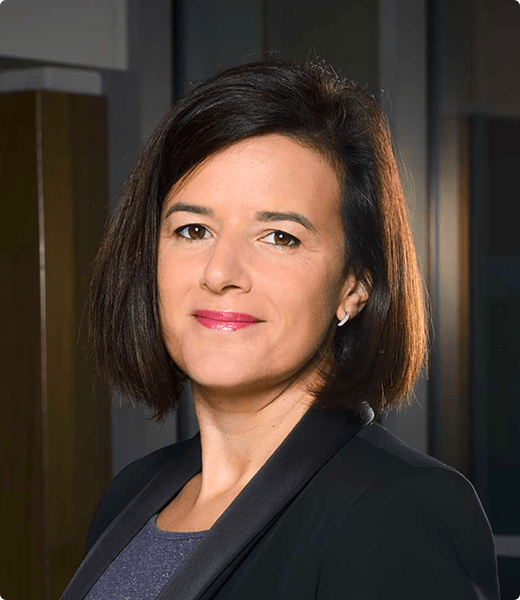 Virginie Dominguez
Executive Vice President Digital, Data and Information Systems
Virginie Dominguez joined Servier in 2020 as Chief Digital Officer, before she was appointed to the Executive Committee in 2021 as Executive Vice President Digital, Data and Information Systems. She has been tasked with implementing and steering the digital transformation at Servier to enable the Group to become a Digital Performer by 2025.
Virginie Dominguez boasts 20 years' experience in digital technology, primarily in the Orange group where she held various positions of responsibility between 2003 and 2019. In particular, while at Orange France, she brought about the digital transformation of retail customer relations and oversaw a vast "widespread agility" transformation program involving several thousand employees.
Virginie Dominguez graduated from the École polytechnique, France, and earned a degree in engineering from the École Ponts et Chaussées.
Dr Philippe Gonnard
Executive Vice President Global Medical and Patient Affairs
Philippe Gonnard began his career with the Servier Group in 1993 as International Product Manager, before becoming Marketing Manager France, Medical Affairs Director France and General Manager France. Having once headed a subsidiary, he was appointed Manager of the West Europe Zone, then subsequently Head of World Operations Oncology. In 2016, Philippe Gonnard was made head of Global Medical Affairs. In his capacity as Executive Vice President Global Medical & Patient Affairs, he has sat on the Servier Group Executive Committee since 2018. In 2020, Philippe Gonnard was also made Chief Medical Officer of the Servier Group.
Philippe Gonnard is a cardiologist and holds an MBA from HEC Paris.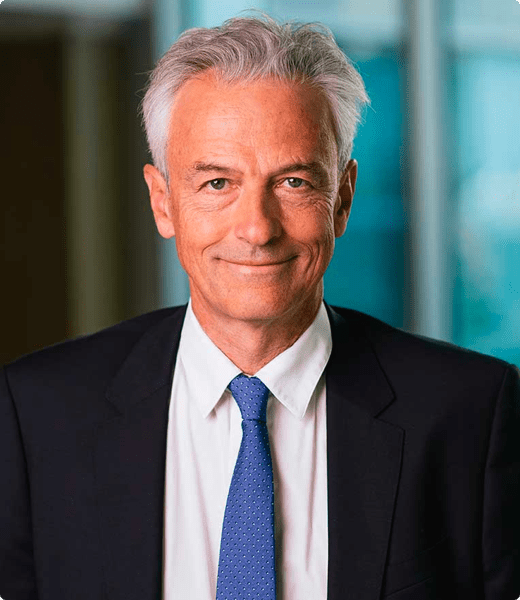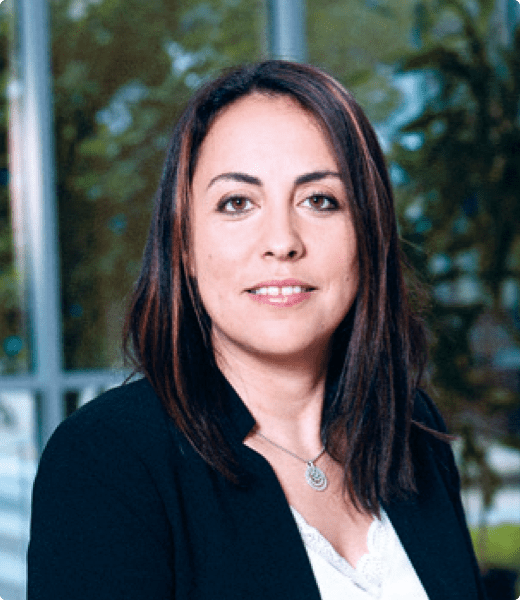 Siham Imani
Executive Vice President Corporate Strategy & Transformation
Siham Imani boasts over 20 years' experience in the pharmaceutical industry in France and the US. She started her career as a business analyst at Arthur D. Little in Paris and Palo Alto, before becoming R&D Product Manager at Orange in San Francisco. In 2005, she joined Johnson & Johnson where she held several positions in sales and marketing. In 2011, Siham Imani moved to Ipsen as Corporate Strategic Planning Director and secretary of the Executive Committee. She went on to become Vice President Commercial Transformation and Support and then Vice President European Business Unit Pediatric Endocrinology.
She joined Servier in 2017 and took up a seat on the Group Executive Committee in 2019 as Executive Vice President Corporate Strategy & Transformation, a role in which she is responsible for steering the global strategy and coordinating all the Group's transformation projects.
Born in Morocco, Siham Imani has both lived and studied in France and the US. She is staunchly committed to promoting diversity and inclusion as a way of driving progress in society as well as performance and innovation in business.
Siham Imani earned a Master's in economics and chemistry from the École polytechnique, France, as well as an MBA from the Stanford Graduate School of Business, US.
Pascal Lemaire
Executive Vice President Finance
Pascal Lemaire boasts over 25 years' international experience in corporate finance, especially in retail and the pharmaceutical industry. Pascal Lemaire began his career outside France at Nestlé, where he spent 17 years in a variety of positions of responsibility across all areas of corporate finance and Global Business Services. In 2015, he was appointed Executive Director Finance & Business Planning at Celgene, a role in which he was responsible for all operations outside the US. He joined Servier and the Group Executive Committee as Executive Vice President Finance in 2020.
Pascal Lemaire earned a degree in business studies and a Master's in Banking and Finance from HEC Lausanne.
Frédéric Sesini
Executive Vice President World Operations
Frédéric Sesini began his career with the Servier Group in 1984 as Product Manager for Servier Italy before becoming Regional Director in Burgundy and Franche-Comté, France, in 1986. In 1989, he was appointed General Manager of Servier Denmark, and before being entrusted with the role of General Manager of Servier Italy in 1992. In 1997, he became Managing Director of Servier Médical before going on to take charge of all operations in France in 2000.
In 2009, he was appointed Senior Director for France, Northern Europe and Canada and in October 2013, he became Managing Director for World Operations. Frédéric Sesini joined the Servier Group's Executive Committee in 2014, where he currently holds the position of Executive Vice President World Operations.
Frédéric Sesini graduated as a Doctor of Pharmacy from the University of Marseille and earned a Marketing degree from Skema Business School, France.
Pierre Venesque
Executive Vice President Industry
Pierre Venesque joined Servier in 1986 as Production Workshop Manager at Oril Industrie in Bolbec/Baclair in Normandy, France, where he worked for nine years in a number of positions of responsibility, including in the Daflon production unit. In 1995, Pierre Venesque was appointed Director of Production at the pharmaceutical facilities in Gidy and Fleury les Aubrais in the Loiret department of France, before becoming Director of Industrial Facilities in the Loiret in 1998.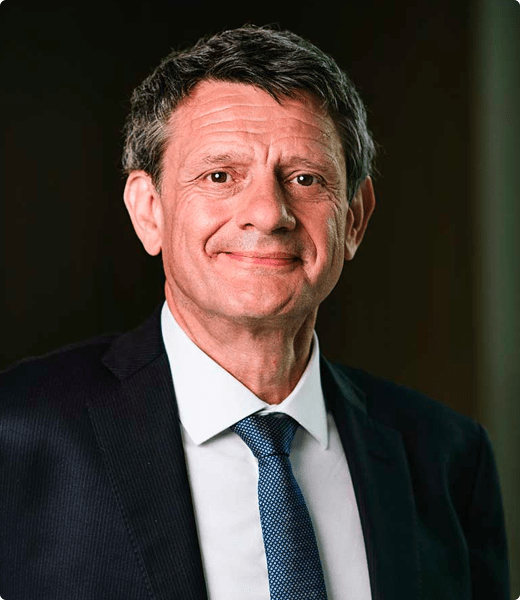 After 15 years at the Gidy facility, Pierre Venesque was called to the Servier Group headquarters as Director of Industry Operations, where he was responsible for both industrial development and global chemical and pharmaceutical production. In this role, he played a pivotal role in launching the Contract Development Manufacturing Operation. In 2018, Pierre Venesque became Managing Director Industry, before being appointed Executive Vice President Industry in 2019.
Pierre Venesque holds a Master's in Organic Chemistry from Paris VI and a degree in chemical engineering from the École Supérieure de Chimie Organique et Minérale, Paris.
Find the Servier Group's
governance