governance
Servier has chosen to remain independent by being governed by a non-profit foundation
Servier has chosen to remain independent by choosing to be governed by a non-profit foundation, the Fondation Internationale de Recherche Servier – FIRS.
This governance structure enables us to focus entirely on fulfilling our vocation as a Group committed to therapeutic progress to serve patient needs.
Giving meaning to what we do
The Servier governance model is what makes us different and also what makes us strong, as being governed by a foundation allows us to be free from shareholder pressure and fully commit, in a sustainable way, to discovering and delivering innovative solutions for patients.
We draw strength from our independence:
We are free to choose the direction in which we are headed
We listen to patients to provide them with the most effective solutions
The Fondation Internationale de Recherche Servier
The Fondation Internationale de Recherche Servier (FIRS) is a non-profit governance foundation without capital. It sets the Group's strategic orientation, ensures it is pursued and has the power to appoint and remove the President.
The FIRS President also holds the office of President of the Servier Group. He is appointed by the Supervisory Board for a five-year term.
No persons own any stake in the Group's capital. A portion is held by French non-profit associations, members of which are companies in the Group, and the rest is held by Servier itself through a legal scheme allowing a company to hold its own capital.
Maintaining freedom of choice guided by our independence
At Servier, we are resolutely independent. This means we are free to make the choices we believe are right and adopt a long-term vision. That is why we choose to reinvest our profit to grow our business and drive progress by developing new treatments for patients.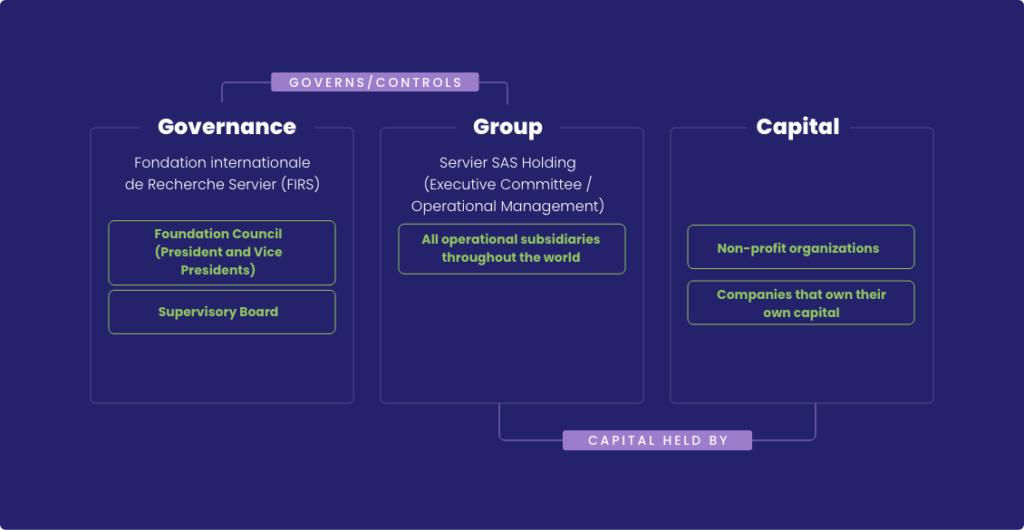 Two governance bodies
The FIRS comprises two governance bodies: a Foundation Council and a Supervisory Board.
The Foundation Council
It is informed of the Group Strategic Plan. It may also be consulted by the President of FIRS on any strategic or operational matter relating to the development of the Group.
The President of the Foundation Council also governs the Group (Servier SAS)
The Vice Presidents are also members of the Executive Committee of Servier SAS. They approve any major decisions
The other members may be consulted by the President and the Executive Committee on matters of importance
Members of the Foundation Council
President
Olivier LAUREAU
Vice Presidents
Claude BERTRAND, Pascal BRIERE, Damien CATOIR, Virginie DOMINGUEZ, Philippe GONNARD, David HINDLEY, Siham IMANI, Arnaud LALLOUETTE, Pascal LEMAIRE, Stéphane MASCARAU, Pierre VENESQUE
Other members
Patricia BELISSA-MATHIOT, François DRUGUET, Patricia LAFAIX, Vincent LAMARCHE, Pascal LANGLOIS, David LEE, Charlotte MARMOUSEZ-TARTAR, Desmond MURPHY, Xavier MORELON, Charbel NOBLE, Béatrice PERRON, David SCHULTZE, Frédéric SECAIL, Christophe THURIEAU, Amandine TOUSSAINT, Isabelle TUPINON-MATHIEU, François VILETTE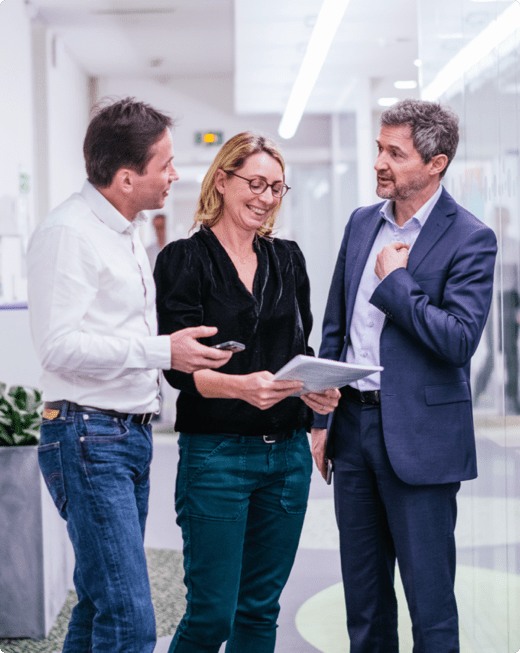 The Supervisory Board
He is tasked with ensuring the Group upholds its founding principles and approving the five-year plan and 10-year outlook as well as any strategic decisions including acquisitions, disposals and loans. The President is appointed by the independent members of the Supervisory Board.
Independent members
Matthias STAEHELIN (President of the Supervisory Board), Kapil DHINGRA, Bernard LE PEZRON, Catherine MAZZACCO, Jean-Christophe TELLIER, Christian WYSS
Other members
Ange DIAZ, Pierre DUSSAUD
Read more about the
Servier Group's ambition for 2030