On May 1, in collaboration with the "May Measurement Month" screening initiative, we will launch the fifth edition of #BecauseIsayso and #Checkyourbloodpressure, a public awareness raising campaign on the importance of taking one's blood pressure.
Raising awareness on blood pressure measurements
The #Checkyourbloodpressure campaign is one of the two parts of #BecauseIsayso. This year, the campaign targets the 40- to 60-year-old adults, a segment of the population with the least time to see a health professional. As a result, it is the least-diagnosed age group. The aim of the campaign is to remind people of the importance of checking their blood pressure, and detect hypertension early on. By following advice from friends and loved ones, adults who have their blood pressure checked will be able to better manage it and reduce the risk of developing a cardiovascular event.
This campaign was developed in collaboration with the International Society of Hypertension (ISH) and OMRON Healthcare, a world leader in innovative medical equipment.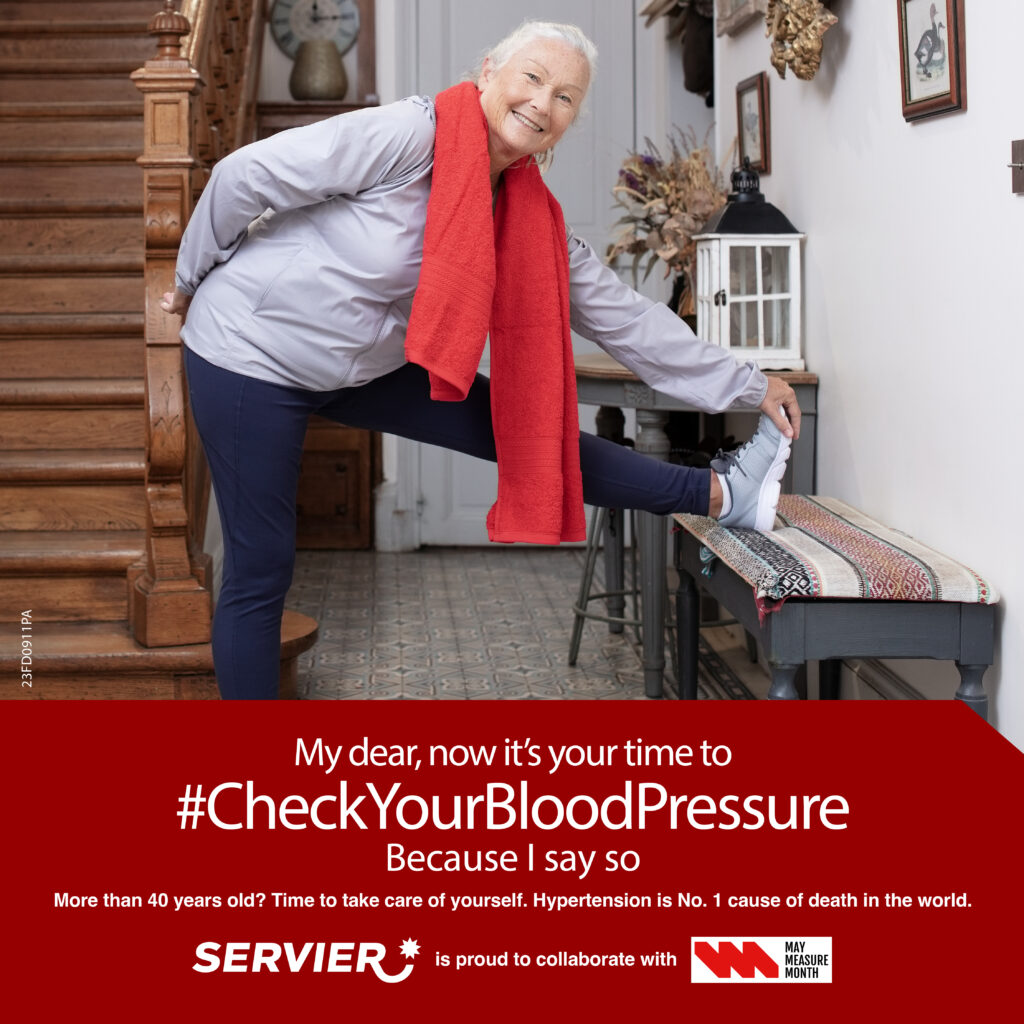 50
#BecauseIsayso is broadcast in more than 50 countries
In figures
2nd
Servier is the 2nd leading global pharmaceutical group in hypertension.3
A campaign co-developed with patients
As with previous editions, the campaign is being developed in collaboration with Global Heart Hub (GHH), an international patient association. At Servier, we are stepping up initiatives that work with patient associations on very concrete issues because we believe that their knowledge of diseases and treatments is crucial to developing more appropriate therapeutic solutions and improving care.
The #BecauseIsayso #Checkyourbloodpressure campaign demonstrates this commitment.
Only 1 in 2 people with hypertension are aware they have high blood pressure even though it is very easy to measure their blood pressure. Prevention comes first with early detection. Co-developed with Global Heart Hub, the Alliance of Heart Patient Organizations, the 2023 edition of the 'Because I say so' campaign is a perfect example of our commitment to working with and for patients. Together we will be able to find the best ways to develop adherence to these preventive measures.

Bertrand Renaud, Chief Patient Officer of the Servier Group
Did you know?
In March 2023, Servier signed a partnership with OMRON Healthcare, the world leader in innovative medical equipment. With this partnership, we intend to innovate to improve the diagnosis, management and long-term control of high blood pressure and other cardiovascular diseases with the aim of improving patient quality of life.
One in two people with high blood pressure does not know that they have hypertension2
Hypertension, also known as the "silent killer," is one of the leading causes of death worldwide1, responsible for more than 11 million deaths per year. Only one in two people suffering from hypertension knows that they have high blood pressure, which explains the importance of regular monitoring.
---
1  – Worldwide trends in hypertension prevalence and progress in treatment and control from 1990 to 2019: a pooled analysis of 1201 population-representative studies with 104 million participants The Lancet VOLUME 398, ISSUE 10304, P957-980, SEPTEMBER 11, 2021 
2 – OMS : https://www.who.int/news-room/fact-sheets/detail/hypertension
3 – IQVIA, Analytics Link / World 74 countries – MAT Q4-2022