Editorial of the integrated annual report
2021/2022 Integrated Annual Report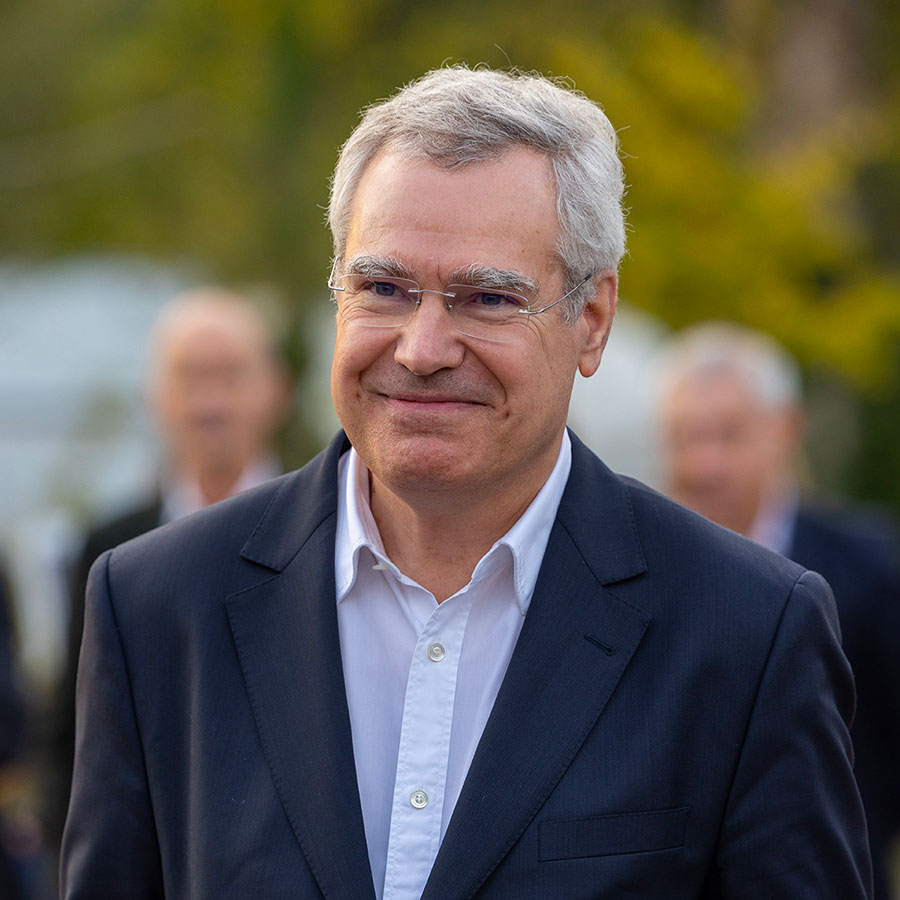 In 2022, the world continued to contend with the aftermath of the Covid-19 pandemic, war broke out in Ukraine leading to profound economic and geopolitical repercussions, and the climate imbalance continued to cause an ever-more dramatic and visible impact.
Given the succession of crises and the breakdown of established world orders—leading to social, economic, political or environmental imbalance—businesses need to become more proactive, agile and adaptable if they are to remain competitive, continue to grow and fulfill their purpose. As key stakeholders in a changing world, they also need to act responsibly, now more than ever.
In health especially, these new challenges make it necessary to rethink the way we do things. We must take account of the population shifts occurring and the need to open access to health care solutions, as well as the rising cost of innovation, how to upscale new developments, and integrate them into public health systems.
At Servier, we are resolutely focused on tackling these challenges, as we are inspired by our vocation, driven by our values and guided by our long-term vision. We are proud to be governed by a non-profit Foundation, a rare strength in our industry.
We integrated corporate social responsibility into our long-term strategy, Servier 2030, concentrating on innovation and the positive social impact we want to make.
This strategy has already produced results in 2021/2022, which underpins the trajectory of our transformation.
We have enriched our R&D pipeline of projects and drug can-didates, achieving greater balance across our therapeutic areas to develop innovative medicines to treat as-yet unmet medical needs in oncology, neuroscience and immuno-inflammation.
In cardiometabolism, we bolstered our leadership position through an incremental innovation strategy to develop Single Pill Combinations1, which help patients to adhere their treatment properly.
In oncology, we are effectively realizing our ambition to leverage innovative treatments, concentrating on hard-to-treat cancers, in particular by establishing partnerships or acquiring entities with strong potential.
Our R&D Institute in Paris-Saclay in France will enable us to fulfill our ambition to pursue disruptive and incremental innovation, located within a community that offers such promise to cut the time it takes to develop new medicines.
From a social and environmental perspective, we have made great strides forward, yet our objectives for the future remain ambitious. We made decisions in 2021/2022 that will be pivotal in enhancing our positive impact. We set up a strategic CSR committee and included corporate social responsibility in the by-laws of the non-profit Foundation that governs our Group. Moreover, we set objectives for 2030 across all CSR indicators, including reiterating our target to cut all our direct and indirect greenhouse gas emissions by 25% by 2030.
We also intend to launch a major social responsibility project every three years to supplement our pledge and efforts to advance the common good. The first of these projects will be announced in the first half of 2023.
The way in which we work with and for patients, while offering our people fulfillment, safeguarding their well-being and developing their skills, means that as a business, we inherently have a strong social impact. This is underpinned by our new brand signature, Moved By You, which highlights our driving force, our strength and our unique character. Servier is a Group wholly committed to therapeutic progress to serve patient needs.
(1) SPC: treatments that combine several active ingredients in a single pill