A source of innovation, ecodesign is a driving force supporting value creation for businesses. Ecodesign takes into account the product's entire lifecycle: from R&D to the product's end of life, as well as the purchasing of raw materials, manufacturing, logistics, distribution and use… This approach enables a more rational use of raw materials and energy.
It enables businesses to streamline their costs, while reducing environmental impacts.
Our ambition and objectives
In 2020, we launched the EcoDesign by Servier program in order to better incorporate environmental, patient-related and social considerations throughout the lifecycle of medicinal products, while respecting the requirements in terms of therapeutic safety and efficacy. This program is based specifically on engaging the teams and building a shared culture, developing expertise and integrating ecodesign into our processes and activities.
Respecting pharmaceutical requirements
Find out more about the United Nations' Sustainable Development Goals (SDGs)
Our achievements and results for 2021/2022
Incorporating the principles of green chemistry and ecodesign into synthesis activities
In 2021/2022, we worked on a new version of our in-house tool "Green Score", which aims to incorporate green chemistry and ecodesign principles into synthesis activities for our medicinal products. The manufacturing of medicines requires chemical synthesis processes whose impacts on the environment and biodiversity vary depending on the medicinal products and solvents used. Thanks to the new version of "Green Score", from 2023, we will assess the environmental impact of 100% of our new industrial chemical synthesis processes.
Combined with the rollout of "Green Score", and to promote choices with reduced environmental impacts, we are working to define guidelines for the use of more sustainable solvents, which will be finalized by 2024.
Building recommendations to optimize packaging design for packaging designers
The EcoDesign by Servier program aims to incorporate ecodesign principles for the packaging of brand-name medicines, while respecting pharmaceutical requirements. Around 20 initiatives have been identified with a view to optimize packaging, reflected in a range of environmental benefits, particularly in terms of greenhouse gas emissions. Environmental aspects have been incorporated into our in-house packaging selection tool, and our industrial sites are working to build "packaging recommendations" for packaging designers. A packaging review was carried out, in May 2022, at our main pharmaceutical site (Loiret), by an expert from Adelphe. The findings from this audit confirmed the possibilities identified and will be incorporated into the "packaging recommendations". Our aim is to roll out these recommendations from 2023.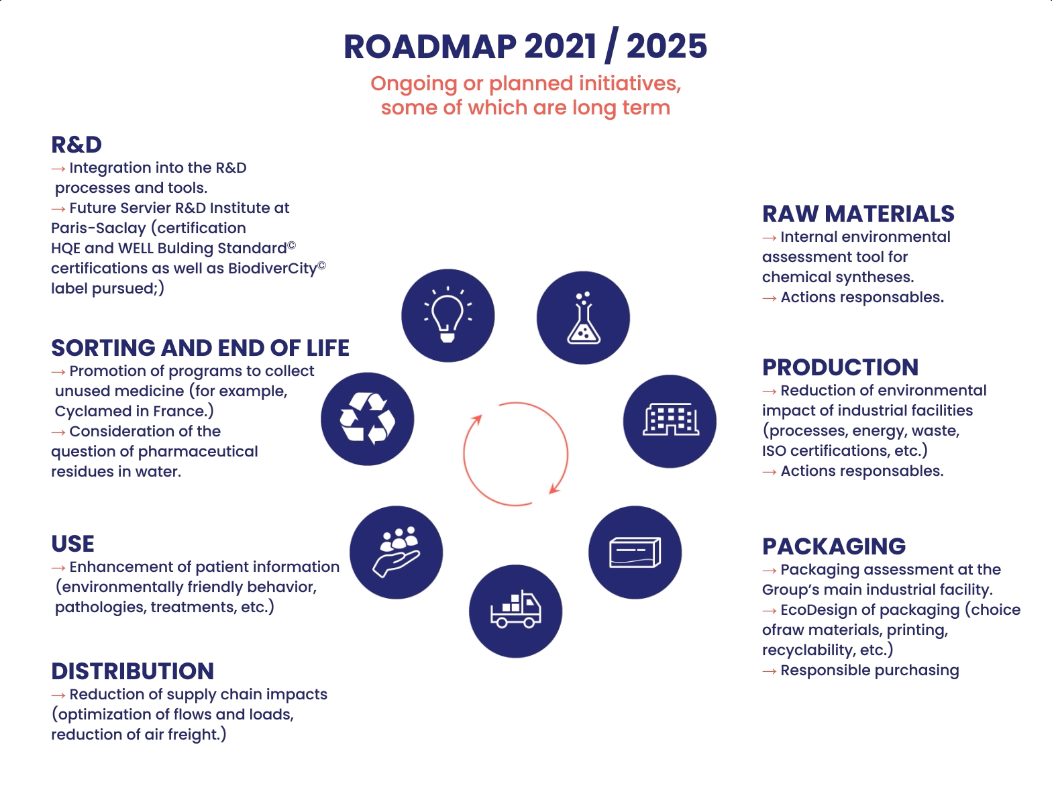 Training employees on ecodesign
EcoDesign by Servier also aims to develop a shared culture and train the Group's teams. 80 employees have been identified as key players for this initiative within the R&D, Industry and Marketing departments. 46% of them have already been trained, particularly on how to use the "Green Score" tool in terms of green chemistry and ecodesign for packaging. The aim is to train 100% of these key employees by the end of 2023.