At Servier, working with patients is a reality!
Patients are increasingly involved in their own health, and this is one of the major challenges that the pharmaceutical industry faces. As a company committed to therapeutic progress to serve patient needs, Servier is tackling this reality head-on. Patients and the associations that represent them are at the heart of the treatment journey and involved at every stage of the medicine life cycle, starting with the design stage.
The development of digital technology, more specifically the availability of information on health and online forums, has given patients easy access to a vast amount of data as well as a place where they can talk about their diseases. As they have become better informed, patients in turn have higher expectations and are more involved in their health care.
Figures
In 2021 in the European Union, one out of every two citizens (55%) between the ages of 16 and 74 used the Internet to search for health-related information(1). Finland ranked first (80%), followed by the Netherlands (77%), Denmark (75%) and Cyprus (74%).
Since 2011, the number of people seeking health information online in the European Union(1) has increased by 17%.
(1) Eurostat's annual survey on ICT use in households and by individuals.
Co-constructing with patient associations
Servier has taken note of this paradigm shift in how it endeavors to meet the needs of patients and their families. For several years now, the Group has been working to ensure that patients are integrated into the heart of the treatment journey.
The Group is therefore multiplying its initiatives in partnership with patient associations to address very concrete issues, at all steps along the way from the diagnosis phase through to proper use of treatments. Servier believes that knowledge of diseases and treatments is essential to advancing research and innovation, improving therapeutic solutions, and patient care.
For example, Servier is collaborating with the international coalition Digestive Cancers Europe (DiCE) on the SHAPE* program. Its aim is to develop tools that will improve patient quality of life alongside people living with gastrointestinal cancers.
In the area of adherence, Servier has partnered with the Global Heart Hub and the Senior International Health Association to improve compliance with treatment in patients with hypertension, and consequently, their life expectancy. The initial results from this partnership have been presented at the 2022 European Society of Hypertension (ESH) Annual Meeting.
Servier also conducts real-world evidence that provide additional analyses of how diseases and medical practices are experienced to bolster therapeutic knowledge. This is the case with Prometco, the first real-world data study conducted by Servier in oncology. Also developed in conjunction with the patient association DiCE, Prometco will enable the Group to better take into account the reality of metastatic colorectal cancer management from the patient's and doctor's perspective.
In order to establish a lasting dialogue, patients have been invited to get involved in the future Servier R&D site in Paris-Saclay, France, set to open in 2023. To this end, a working group comprised of 18 patients was recently set up to promote interaction with patient associations within the future Institute.
Did you know?
In 2020-2021, Servier collaborated with 19 international patient organizations in 4 therapeutic areas: oncology, cardiology, neuroscience and immuno-inflammatory diseases.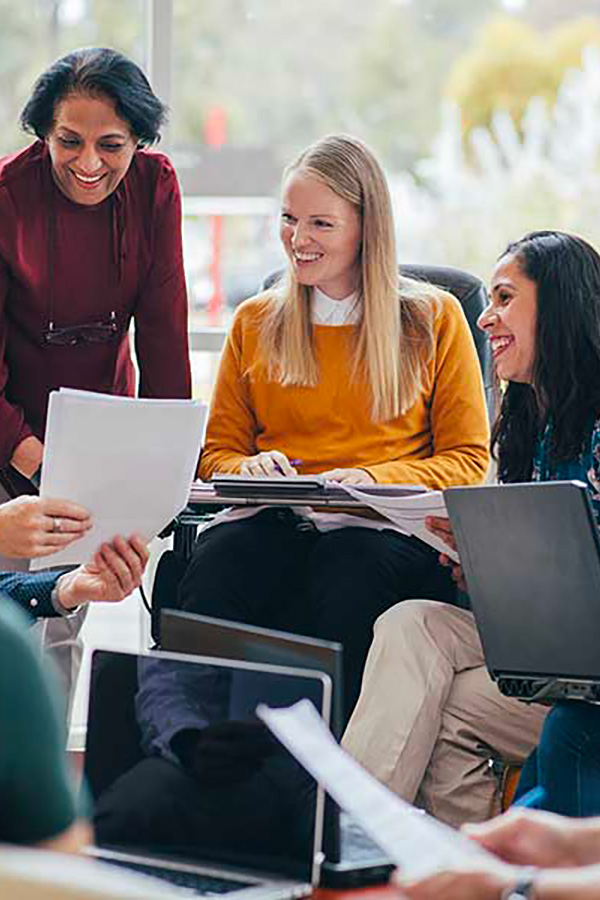 More than ever, the patient's voice counts!
Servier is convinced that involving patients at all stages of the medicine life cycle enables them to benefit from the best therapeutic solutions and care that is adjusted throughout their treatment journey. As a result, Servier's teams listen carefully to patients from the earliest stages of research and development, in order to move forward alongside them.
For example, patients are now systematically involved in the development protocols on SCORE, our digital platform dedicated to clinical trials. In addition, lay summaries of clinical study results are translated into several languages and reviewed by patient representatives.
Témoignage
"I am fully convinced that the benefits for patients will be even greater if medicines are developed with them involved. Like health care professionals and researchers, patients and their families are stakeholders whose voice must be heard in order to improve the health care journey and to provide therapeutic solutions that take into account the individual and his or her environment"
A welcome commitment
As proof that this commitment has been well received, Servier now ranks higher each year in the survey carried out by patient associations around the world that gauges the reputations of pharmaceutical companies. Conducted by PatientView, this survey is based on criteria such as transparency, patient involvement in research, and the availability of "beyond the pill" services.
In the latest edition of survey in 2021, the Group even posted one of the best improvements: it moved up five places to rank 26th out of 45 in the evaluation by the associations with which it works, and 28th (+7 places) among those who are familiar with the company.
In particular, Servier is recognized as a partner of choice in oncology: it ranked 7th (out of 30 companies) by the patient associations with which it works in this field, an increase of one point compared to 2020 and two points compared to 2019.
These are all encouraging signs, which reinforce the Group's desire to work ever more closely with and for patients.
* Support Harmonized Advances for better Patient Experiences