Real-world studies reflect current practices with respect to how patients react to treatment in terms of tolerance and efficacy. Such observational studies enhance medical knowledge, as well as patient and doctor experiences by helping to develop better treatments that ultimately benefit patients.
Real-world data are collected from a variety of sources and relate to the lived reality of patients and doctors, drawing on information such as the delivery of health care, treatments, as well as the impact of the disease and its treatment on patients' lives. In other words, these data reflect the real lives of people affected by the illness in question and complement those obtained from traditional clinical trials. Such additional robust analysis on the experience people have of living with diseases and medical treatment helps to expand therapeutic understanding.
"In recent years, real-world studies and their applications have undergone a major evolution. At Servier, we have applied this paradigm shift to our R&D activities, in order to accelerate the discovery of innovative treatments."

Nadjat Mounedji, Global RWE Department Head, R&D
A structured methodology
It is important to first understand the needs of all stakeholders in order to precisely identify the matters that require research, whether in relation to medical concerns, medical economics, or even regulation. Although it takes time to identify sources of data and deploy a suitable methodology, such steps are essential to obtain robust findings. Data are then analyzed using increasingly high-performance digital platforms that enable the Group to compile ever larger data bases so as to exploit ever more homogeneous and standardized data.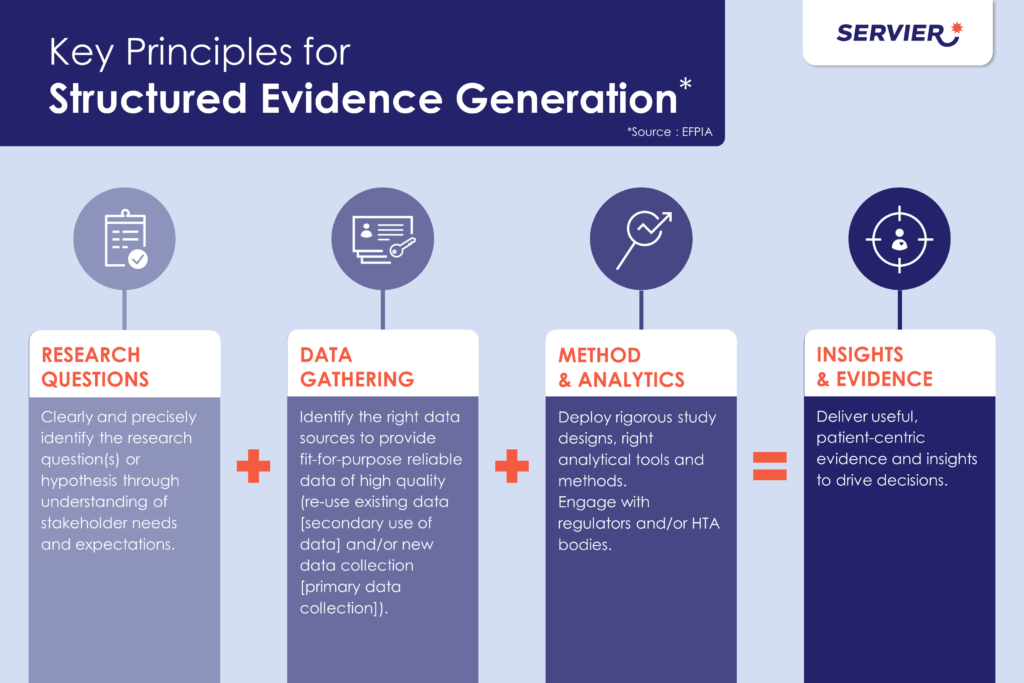 Real-world studies at Servier
At Servier, we conduct real-world studies to collect data about diseases and their treatment in current practices in order to improve patient care. In 2022, we launched an innovative real-world study drawing on several databases in Europe and the United States. The study covers people with blood cancer to generate disease indicators, care standards, clinical criteria and health care expenses. It will serve to enhance understanding about current treatment practices and better characterize patients who could benefit from a new oncology treatment.
In 2022, "Data Saves Lives", a multipartite initiative launched by the European Patients' Forum and the European Institute for Innovation through Health Data, published on its website the findings of a real-world study carried out by Servier using the health data of people being treated for  hypertension in Italy. This study was deemed to be a good example to illustrate the potential of real-world data to provide pertinent information about unmet patient needs in terms of therapeutic adherence and the potential interest of single pill combinations.
"At Servier, we are committed to involve patients in our actions to improve our understanding of their needs. The deployment of real-world study programs allows us to increase our knowledge of medicine use for the benefit of patients."

Valérie Lehner-Martin, Medical Excellence and Real World Director, Global Medical and Patient Affairs