Single pill combinations (SPC) represent an innovation in the daily lives of patients with chronic diseases (hypertension, diabetes, dyslipidemia, etc.). SPC are medications that combine several treatments in a single pill, and make it easier for patients to take. Likewise, prescribing treatments is simpler, which promotes therapeutic adherence for patients. SPCs are a significant advance that allows patients to take better control of their disease, thereby preventing potential complications.
Very often, patients with chronic illnesses face the need to take multiple treatments. Over time, and depending on disease progression, the number of pills can increase. This makes treatment even more complex and even seem discouraging for many patients. This is especially true for patients who are being monitored for several chronic diseases. For example, 49% of people with hypertension have dyslipidemia, while 29% have type 2 diabetes1. This is why il could be hard to adhere to treatments!
Innovative combinations of molecules and new dosages
The latest advances in drug formulation have made it possible to reduce the number of pills by combining their active ingredients to a single gelcap. Single-pill combinations were developed with the aim of making it easier for patients to take their daily medications, and for health care professionals to prescribe them.
Single pill combinations can also allow be the medium for new dosages. Today, such dosages expand health care professionals' therapeutic treatment arsenal and make it possible to meet patient needs in the most precise way.
"Current dosages cover a large part of the needs, but some are not yet sufficiently segmented. The unavailability of the right doses necessary to treat a disease like diabetes, for example, forces doctors to ask their patients either to cut their tablet in half, or to take two instead of one, to obtain the appropriate dose required."

Emmanuel Arnaud, Head of Innovation Life Cycle Management at Servier
Encourage therapeutic adherence for more effective treatments
The term therapeutic adherence describes how well a patient follows the medical treatment prescribed by a health care professional as well as their recommendations. It is conditioned by the patient's willingness to take charge of their illness and their rational endorsement of the treatment proposed. From this perspective, the patient does not submit to their therapy, but rather adheres to it. Adherence is thus manifested by behavior that demonstrates compliance with the treatment and with its prescription over time.
"A quality doctor-patient relationship leads to shared decision-making, which is essential to improving adherence."

Véronique Morris, Scientific Engagement Director, Global Medical and Patient Affairs – Hypertension & Dyslipidemia
Several studies2 have thus demonstrated the correlation between adherence and therapeutic effectiveness. In other words, the more patients take their treatment correctly, the better they can effectively control their blood pressure, their blood sugar, their cholesterol, or triglyceride levels, etc. In turn, this limits the progression of their disease and the risk of complications.
Preventing serious complications
Managing chronic diseases by opting for the most appropriate treatment helps prevent the onset of serious complications. Diabetes, high blood pressure, and hypercholesterolemia are among the greatest risk factors for cardiovascular diseases and events.3 Myocardial infarction, stroke, peripheral arterial disease of the lower extremities, angina pectoris, heart failure, and so forth, cause serious cardiac damage that can have major consequences for the patient and those around them as well as on the costs of health care.
Every year, these chronic diseases are constantly on the rise. Diabetes, and more particularly type 2 diabetes, affects 537 million people worldwide today4. The number is expected to increase to 622 millionby 20405. Additionally, 1.28 billion people aged 30 to 79 currently suffer from hypertension, a disease that is predicted to affect 1.56 billion people by 20256.
A return to regular medical monitoring
The question of medical monitoring is even more crucial, as many patients are not monitored7. As a consequence, a lack of regular monitoring means insufficient treatment adherence and compliance. Up to 50% of patients do not follow the treatment prescribed to them correctly, whether in terms of duration and/or number of pills8.
Did you know?
According to several international studies, non-adherence to treatments for diabetes, hypertension, and high blood lipid levels is responsible for at least 200,000 deaths and generates an additional cost of 125 billion euros each year in Europe9. More broadly, non-adherence contributes to 57% of the total avoidable health costs in the world10. Up to 270 billion USD, corresponding to 4.6% of total health spending worldwide11 stand to be saved, as experts estimate that more widely respected medication adherence would make it possible to reduce health care costs by 75%.
What about Servier?
Servier, an essential player in SPCs in cardiology and metabolism
Servier is the fourth leading pharmaceutical group in cardiology and for 50 years, we have been engaged in the fight against hypertension (third leading global pharmaceutical group)12. We have made adherence, a key lever for improving the therapeutic effectiveness of treatments to meet patient needs, our mission.
Guided by the needs of patients, we aim to provide innovative therapeutic solutions in through the development of treatments targeting chronic diseases such as hypertension, diabetes, dyslipidemia, and heart failure. Our objective is to promote the implementation of best treatment practices and enable optimal patient care, adapted to each profile and each phase of their disease. Single pill combinations, with their novel combinations of molecules and new dosages, are how we meet this objective.
As pioneers in this field, we are particularly active in medicine life cycle management.
"Today, we have eight life cycle management projects in development and seven projects in the feasibility stage in the fields of cardiovascular diseases and diabetes. The goal is to obtain a new marketing authorization by 2026."

Emmanuel Arnaud, Head of Innovation Life Cycle Management at Servier
New real-world evidence studies published show the benefits of single pill combinations for patients, doctors, and society.
How are single pill combinations developed at Servier?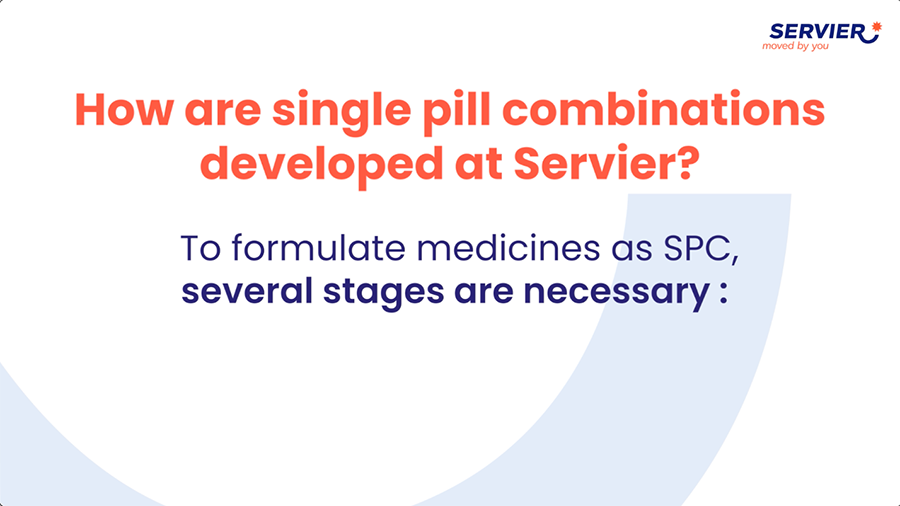 ---
[1] Thoenes M, et al. Cardiol Res Pract. 2012:925046
[2] 1.Khatib R. et al. Open Heart. 2019 Jul 3,6(2) e000997; 2. Adherence: Khunti K et al. Diabetes Care. 2017;40(11):1588-1596/ Control: DISCOVER: Gomes MB et al. Diabetes Res Clin Pract. 2019; 151:20-32; 3. Adherence: Olsen MH et al. Lancet. 2016;388(10060):2665-2712 / Control: Mills KT et al. Global Disparities of Hypertension Prevalence and Control: A Systematic Analysis of Population-Based Studies From 90 Countries. Circulation. 2016; 4. Adherence: Chowdhury R, Khan H, Heydon E, et al. Adherence to cardiovascular therapy: a meta-analysis of prevalence and clinical consequences. Eur Heart J. 013;34:2940–8 IQVIA RWD / Control: .Gitt AK et al. Eur J Prev Cardiol. 2012;19:221–30; 5. ESC Heart Failure guidelines 2021
[3] N Engl J Med. 2023 Aug 26. Global Cardiovascular Risk Consortium. Global Effect of Modifiable Risk Factors on Cardiovascular Disease and Mortality
[4] International Diabetes Federation. IDF Diabetes Atlas, 10th edn. Brussels, Belgium: 2021. Accessed July 2022. https://www.diabetesatlas.org
[5] WHO
[6] WHO
[7] NCD Risk Factor Collaboration (NCD-RisC). Lancet. 2021 Sep 11;398(10304):957-980. Worldwide trends in hypertension prevalence and progress in treatment and control from 1990 to 2019: a pooled analysis of 1201 population-representative studies with 104 million participants
Control rates among people with hypertension in 2019 were 23% (20-27) for women and 18% (16-21) for men.
[8] Adhésion médicamenteuse: comment passer du paradigme de " traiter la maladie " à celui de " traiter le patient?" [Medication adherence: how to move from the paradigm of "treating the disease" to that of "treating the patient?]", 02/2023, HAL Open Science.
[9] Investing in medication adherence improves health outcomes and health system efficiency: Adherence to medicines for diabetes, hypertension, and hyperlipidaemia [Internet]. 2018 Jun [cited 2022 Nov 7]. (OECD Health Working Papers; vol. 105). Report No.: 105. Available from: https://www.oecdilibrary.org/social-issues-migration-health/investing-in-medication-adherenceimproves-health-outcomes-and-health-system-efficiency_8178962c-en
[10] Aitken M, Gorokhovich L. Advancing the Responsible Use of Medicines: Applying Levers for Change [Internet]. Rochester, NY; 2012 [cited 2022 Nov 30]. Available from: https://papers.ssrn.com/abstract=2222541
[11] Aitken M, Gorokhovich L. Advancing the Responsible Use of Medicines: Applying Levers for Change [Internet]. Rochester, NY; 2012 [cited 2022 Nov 30]. Available from: https://papers.ssrn.com/abstract=2222541
[12] IQVIA, Analytics Link / World 74 countries – MAT Q1-2023