This September 29, it's World Heart Day! Servier is renewing its commitment to fight against cardiovascular disease by partnering one of the largest prevention campaigns in this field, organized by the World Heart Federation. Convinced that therapeutic adherence is a key issue for improving patient care, Servier supports the campaign with the theme USE HEART FOR ADHERENCE.
Committed to the field of cardiology for more than 60 years, Servier is supporting the World Heart Federation's (WHF) international cardiovascular risk awareness campaign on World Heart Day. During this campaign, and convinced that therapeutic adherence allows for improved patient management, Servier is spreading the message: "Use❤️ for adherence".
Cardiovascular diseases can have serious consequences: myocardial infarction, stroke, sudden death… According to the WHO, cardiovascular diseases are the leading cause of death in the world (excluding communicable diseases) with 18.6 million deaths per year. This situation, which was exacerbated during the Covid-19 pandemic, is explained in particular by the fact that diagnoses and treatment were made too late. In addition, during this period, insufficient compliance with treatment was observed, further worsening the prognosis of patients often suffering from multiple cardiovascular diseases.
Encouraging engagement between patients and their doctors, reducing the number of medications and providing beyond the pill solutions, are three effective ways to improve patient compliance. This is why Servier has initiated a project in collaboration with physicians from the European Society of Hypertension (ESH), two patient associations (Global Heart Hub and Senior International Health Association) and institutions such as the European Commission.
"Initially, gathering feedback from patients and physicians on treatment adherence will enable the development of a global digital solution that will allow doctors to individualize the advice given to each patient. We are convinced that this will considerably improve compliance with treatment and therefore the management of hypertension and thus life expectancy of patients," explains Véronique Morris, Head of Medical Communications for hypertension and dyslipidemia at Servier.
On World Heart Day, Servier named expert Neil Johnson as Heart Hero for his three-decade commitment to cardiovascular disease.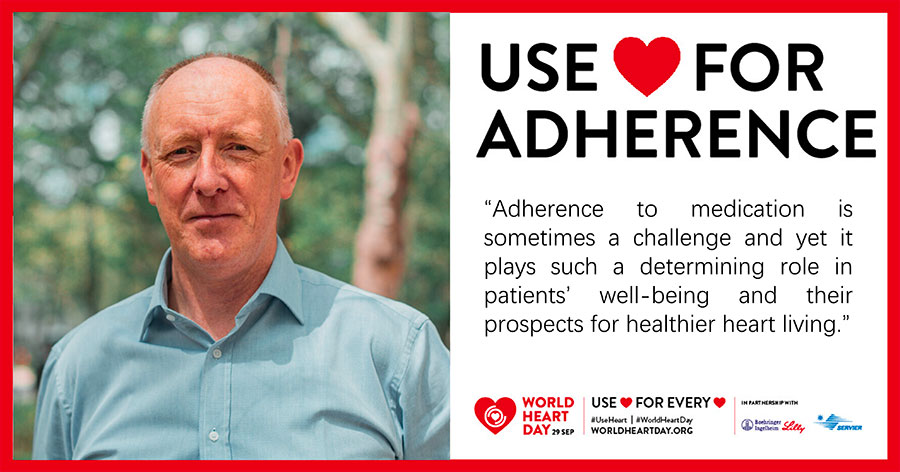 Niel, is the founder of the patient organization Global Heart Hub.
Servier is also rolling out two global campaigns to prevent the risk factors that aggravate angina and heart failure:
Use Heart to Act Now on Angina
Co-developed with the WHF and Global Heart Hub, the international alliance of heart patient organizations, this campaign alerts people to the symptoms of angina, which are often underestimated and difficult to recognize: fatigue, stress, chest pain, jaw pain, breathing difficulties….
Every Beat Matters
This campaign aims to make doctors and patients aware of the importance of controlling heart rate which, if high, can be a precursor to serious complications. It is based on a strong emotional approach centered on the patient, the heart rate should only be accelerated for good reasons!