The Servier Pharma Hackathon fostered open innovation and helped students to create innovative solutions to improve university life.
In order to strengthen collaboration with the country's leading universities, last December, Servier Ukraine welcomed over 100 students of the National University of Pharmacy in Kharkyv (second largest city in the country) to the Pharma Hackathon, the first ever hackathon organized for students of medical and pharmaceutical universities in Ukraine.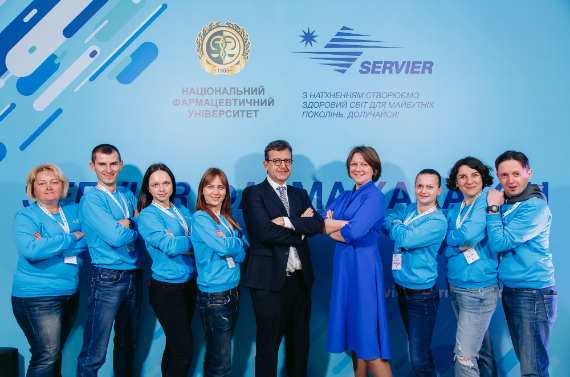 A hackathon is best described as an invention marathon where participants share their ideas and know-how to create a project in a short time. The topic was how to improve social and educational life in the university. With the support of Servier representatives, students worked on their projects using design thinking* methodology. Among the 10 projects proposed by students were creation of a laboratory where students can practice preparing medicines, an application used to look for students working on the same kind of project, and a program to encourage communication between students and business experts. Students eagerly worked together, gained feedback, and shared experiences with the Servier team.
"Innovation has always been and still is at the heart of our actions. We wish to support its development and we hope that the experience gained during the hackathon will help students to boost their creative potential and to develop solutions aimed at discovering new ways to meet healthcare needs," – Michel Eschenbrenner, General Manager of Servіer Ukraine.
* Design Thinking is a methodology used to solve complex problems; it involves observation to discover unmet needs in a particular situation generating creative ideas and innovation. The method describes a human-centered design process consisting of 5 steps: Empathize, Define, Ideate, Prototype and Test.