September 4 is World Leukemia Awareness Day. Leukemia is a blood and bone marrow cancer characterized by the dysfunction of immature blood cells that multiply abnormally. Servier has been involved in the fight against these hematological cancers for several years. 
Untreated, acute leukemias progress quickly. They therefore constitute diagnostic and therapeutic emergencies. This is why Servier is committed to develop precision medicine to meet patients' needs. The objective is to improve their quality of life by offering personalized treatments.
To achieve this, the Group is working on targeted therapies that attack cancer cells and aim to reduce side effects. Research in this field is aimed at supporting people with leukemia who do not yet have an optimal therapeutic solution.
Learn more about targeted therapies with Patrick Therasse, MD, PhD, Head of Late Stage and Life Cycle Management, Oncology, Servier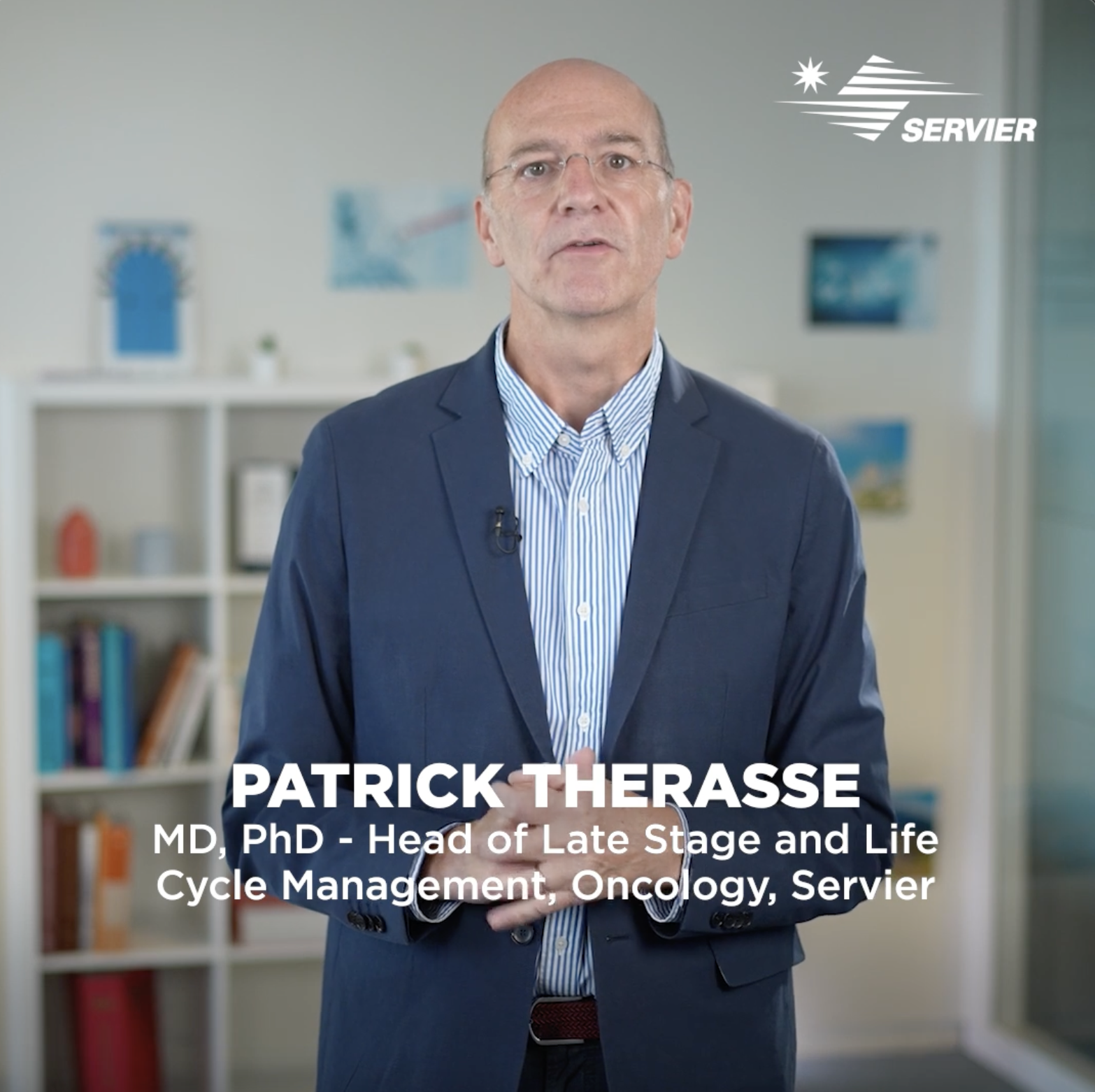 In the future, the combination of cutting-edge technologies – such as genomic analysis, artificial intelligence and immunotherapy – will make it possible to better fight difficult-to-treat cancers like leukemia. The goal is to ensure that treatments will ultimately have a minimal impact on patients' quality of life, while at the same time combating the disease as much as possible.
Close collaboration with patients
In order to better meet their needs, Servier works with patients at every stage of the drug life cycle. For example, the Group works with the international patient coalition ALAN (Acute Leukemia Advocates Network) to identify and better integrate the needs of people with leukemia into clinical study protocols. Servier also supports ALAN by funding two of its projects, aimed at educating and raising awareness about leukemia.
Leukemia in brief
There are 4 types of leukemia. Chronic leukemias develop slowly, while acute leukemias develop suddenly. When lymphoid cells are affected, we talk about lymphoblastic leukemias. Myeloid leukemias attack myeloid cells.
Acute myeloid leukemia in numbers
Between 64 and 72 years old
median diagnosis age of acute myeloid leukemia in the 2010 decade (by country)1,2
43 000
New cases of acute myeloid leukemia per year in Europe (estimated)3
Understanding acute myeloid leukemia
Acute lymphoblastic leukemia in numbers
876 000
Number of people affected by acute lymphoblastic leukemia in 2015 worldwide4
80 %
Of childhood leukemias under 15 years of age are acute lymphoblastic leukemias in Europe
[1] https://www.cancer.net/cancer-types/leukemia-acute-myeloid-aml/statistics
[2] Institut National Du Cancer, « Synthèse – Estimations nationales de l'incidence et de la mortalité par cancer en France métropolitaine entre 1990 et 2018 – Ref : SYNINCNAT2019 » [archive], sur www.e-cancer.fr, juillet 2019 (consulté le 8 septembre 2019)
[3] O. Visser, A. Trama, M. Maynadié, C. Stiller, R. Marcos-Gragera, R. De Angelis, S. Mallone, C. Tereanu, C. Allemani, U. Ricardi, H.C. Schouten, Incidence, survival and prevalence of myeloid malignancies in Europe, European Journal of Cancer, Volume 48, Issue 17, 2012, Pages 3257-3266, ISSN 0959-8049
[4] « Global, regional, and national incidence, prevalence, and years lived with disability for 310 diseases and injuries, 1990-2015: a systematic analysis for the Global Burden of Disease Study 2015 ». Lancet. 388 (10053): 1545–1602. doi:10.1016/S0140-6736(16)31678-6. PMC 5055577. PMID 27733282.
[5] Coebergh J-W.W. et al., Leukaemia incidence and survival in children and adolescents in Europe during 1978–1997. Report from the Automated Childhood Cancer Information System project. European Journal of Cancer, 2006.