Throughout March, Servier is supporting the ECCAM (European Colorectal Cancer Awareness Month) campaign, better known as "Blue March". This campaign, initiated by the patient association Digestive Cancers Europe (DiCE), aims to improve colorectal cancer screening programs, as well as increase the information and awareness around this disease.
Colorectal cancers account for 12% of fatal cancers in Europe each year, and approximately 250 000 deaths.1 However, more than 55% of new cases of colorectal cancer could be prevented through better health practices.2
The ECCAM campaign launched by Digestive Cancers Europe (DiCE) is an opportunity to raise awareness of colorectal cancer screening. The objectives are to improve patients' quality of life and increase survival rates. This year, with the slogan "Talk to us, we've been there," the campaign also focuses on how diagnosed patients live with colorectal cancer, thanks to the support of those previously affected by the disease. As a partner of DiCE, Servier supports and sponsors this campaign.
In order to reach as many people as possible, the campaign is being spread on social networks via the hashtags #CRCBeenThere and #ECCAM2021.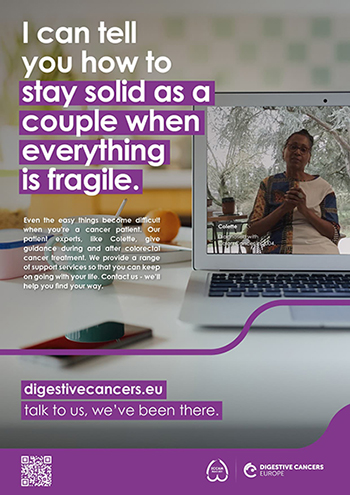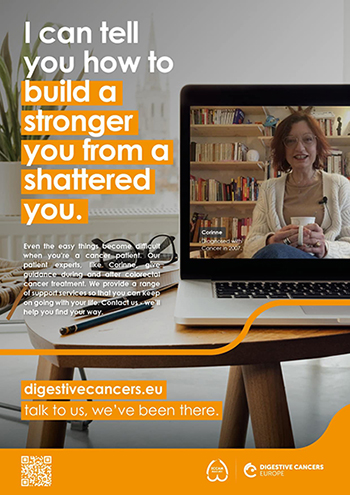 Leveraging therapeutic innovation in oncology
Servier has made oncology one of its research priorities and has the ambition to become a renowned and innovative player in this field. The strategic collaboration with Celsius Therapeutics in December 2020, focused on the identification and validation of new therapeutic targets for the treatment of colorectal cancer, is in line with this ambition. "As colorectal cancer remains a leading contributor to cancer deaths worldwide, we see an urgent need to bring forward new therapeutic options for patients," says Hugues Dolgos, Global Head of Oncology R&D at Servier.
The Group has also initiated two Phase III clinical trials in several countries in metastatic colorectal cancer. Results are expected by 2021-2022.
Did you know?
Servier devotes 50% of its global R&D budget (brand-name activity) to the search for new therapeutic solutions against cancer.
SHAPE: co-creation at the service of the patient
Servier's SHAPE (Support Harmonized Advances for Better Patient Experiences) program aims to develop solutions to improve the quality of life for people with metastatic colorectal cancer. Expert patients, representatives for patients with digestive cancers and health care professionals have also taken part in designing and developing two programs. Both programs are available in two versions—one for patients and one for health care professionals: MyMood, which includes practical advice to help patients manage their emotions during their cancer journey, and MyDialogue, to guide them through their conversations with health care professionals. There is also a support for physical activity for patients with metastatic colorectal cancer: MyMove.
Key figures
Colorectal cancer represents 12% of all cancer deaths in Europe or approximately 250 000 deaths per year1
19 Bn The total annual cost of colorectal cancer in the EU alone is estimated at 19 billion euros2
Colorectal cancer average 5-year survivorship rates in Europe are 60%2
---
1 – GLOBOCAN; 2020
2 – Roadmap for the Prevention and Treatment of Colorectal Cancer in Europe; DiCE; 2020