Precision medicine – a model that tailors treatment to the individual characteristics of a patient's illness – is an exciting field with a myriad of opportunities for therapeutic innovation. In this context, Companion Diagnostic tests are the perfect illustration of the application of precision-based medicine for innovative patient care by helping to match a patient to a specific therapy.
A Companion Diagnostic is generally defined as an in vitro medical device that will identify patients 'before and/or during treatment' who are most likely to benefit or most likely to be at increased risk for serious side effects as a result of treatment with a particular therapeutic drug.
How is a Companion test developed? What are the benefits? What are the challenges? Read on for more insights.
Companion tests can be performed on either a tissue biopsy or blood sample using different genomic (e.g. Next Generation Sequencing, qPCR) or protein-based technologies (e.g. Immunohistochemistry). In the case of a cancer, a Companion diagnostic test may identify whether a patient's tumor has a specific genomic anomaly such as a mutation or altered expression of a protein which is predictive of an improved efficacy for the therapeutic drug.
Companion tests are a promising application of more targeted and personalized medicine in multiple diseases. The test-treatment pair bring multi-faceted value to many different stakeholders: physicians, payers, regulators, pharma & diagnostics companies, but first and foremost they enable the patient to benefit from the maximal likelihood that they will respond to the therapy.
Developing companion diagnostic tests
The initial idea for a Companion test is rooted in long-term fundamental, translational and clinical research to demonstrate the ability of an identified biomarker to predict which patients will respond best to a drug candidate.
A Companion diagnostic test emanates from years of fundamental research, translational research and clinical development.
A Companion diagnostic test is essentially the transformation of a prototypic biomarker test that has demonstrated predictive value in terms of efficacy in early clinical trials, to a highly validated test approved by a Health Authorities with strict requirements in terms of analytical validation, clinical performance.
The Companion diagnostic test is developed in parallel to the therapeutic solution. With the ultimate demonstration of clinical benefit in a pivotal registrational trial for a selected therapeutic drug in a specific disease indication.
The next step is for the Pharma to file a marketing authorization application for the drug—and for the Companion diagnostic test developer to simultaneously file an application for the test. If authorization is granted, the Companion diagnostic test is mandatory before treatment with the therapeutic solution.
Pathologies which the tests can be used for
Companion tests help doctors treat all kinds of pathologies. In some cancers, researchers have been able to pinpoint the genetic mutations linked to the growth of certain tumors and to predict how patients will respond to a number of targeted therapies.
Let's take HER2, a very aggressive form of breast cancer (12-20% of all breast cancers): when the HER2 receptor is predominant it causes cancer cells to proliferate. An early tumor biopsy will show overexpression of this protein. Therefore, doctors can administer an anti-HER2 treatment to maximize the chances of curing the disease. A Companion test based on the level of expression of HER2 must be performed prior to treatment with this drug.
Developing a companion diagnostic test: the challenges
The bedrock to the development of a Companion diagnostic test is robust scientific & clinical evidence demonstrating clinical benefit and requires the collaborative implication of therapeutic divisions, translational medicine, regulatory affairs, medical affairs and market access to ensure the most appropriate choice of biomarker, technology, partner, as well as the strategic development and commercialization plan.
There are six key stages involved in developing a Companion diagnostic test, and all of these stages must be synchronized with the development of the drug:
Scientific validation
Analytical validation
Clinical validation
Demonstration of clinical utility
Marketing authorization
Marketing & Post-Commercialization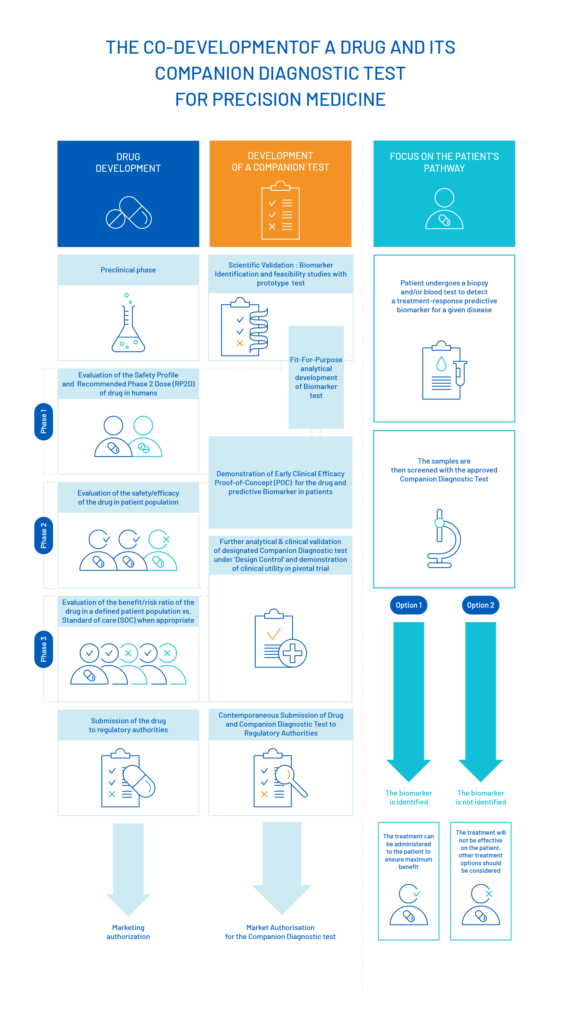 A Companion diagnostic test can take up to five years to develop at an approximative cost of €10 to €30 million. In collaboration with a test developer, the Pharma markets the therapeutic solution jointly with the Companion test. It is also important to note that the regulatory procedures and requirements for Companion diagnostic test approval applications may differ from country to country.
Servier and Companion diagnostic tests
To meet the growing need for new therapeutic solutions, Servier has made oncology one of its top priorities where it devotes over 50% of its R&D budget.
The Group's aim is to drive innovation in precision medicine and it wants to be at the forefront of advances for patients to provide treatments where they are needed most. With a model based on drug-companion test co-development, Servier is entering a new era.
Precision medicine shines new light, deepening the understanding of disease and reducing the time between the discovery and the clinical development phases. Close collaboration between researchers and clinicians adds valuable insight and augments the probability of success.
Companion diagnostic tests aim to accelerate the advance of personalized medicine. This approach aligns perfectly with the mission of Servier: to provide better treatments and improve quality of life for patients all along the care pathway.
The vision to integrate a Companion Diagnostic Department in Translational Medicine was to ultimately bring the objective of biomarker-driven precision medicine to its ultimate level and execution and to provide a clear benefit in a defined population supported by a predictive Companion test.