Chronic venous disease and hemorrhoidal disease, which affect a large number of people and which are expressed in different ways, have a common origin: inflammation of the vein. This is why it is important to treat these pathologies from the earliest symptoms in order to slow their progression to more advanced stages and/or recurrences.
Venous disease most often begins with discomfort in the legs, progressing gradually to varicose veins, edema, skin hyperpigmentation (discoloration), and ulcers. It is sometimes complicated by deep or superficial vein thrombosis, which is when a clot forms in a blood vessel and obstructs it. Various risk factors can be linked to venous disease onset and progression; some of these are related to lifestyle and can be addressed.
Venous disease is one of the most common diseases in the developed world, affecting up to 60% of adults over the age of 50.
Lifestyle factors, such as excess weight, lack of physical activity, and standing for prolonged periods increase the likelihood of developing it, with women at greater risk than men. During pregnancy, the increased volume of the uterus compresses the veins in the abdomen, making it more difficult for venous blood to flow back from the legs. Finally, a family history of venous disease, linked to genetic factors, also increases the likelihood of developing this condition.
60%
Venous disease affects 60% of adults over the age of 50*
Main cause: poor circulation in the veins
Treatment
The treatments currently available depend on the stage of the disease. Patient education, physical activity, elevating the legs and keeping weight in check can slow its progression. Mechanical methods such as elastic compression stockings or socks can reduce the pressure of the blood on the valves.
Treatments with venotonics limit the extent of inflammatory reactions and reduce the symptoms associated with venous disease. Established varicose veins are either surgically removed or sealed shut using radiofrequency, laser, or the injection of a chemical solidifying agent (sclerotherapy).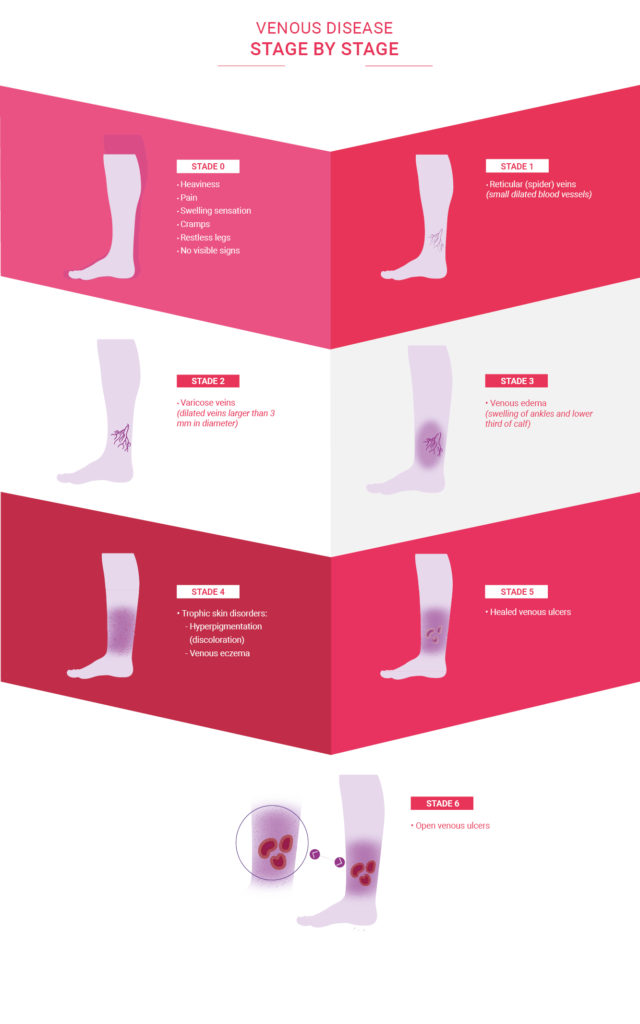 REMEMBER
Maintain a healthy lifestyle: A few lifestyle measures – such as physical activity, massaging legs regularly, making dietary changes and elevating legs at night – all help to slow the onset and progression of venous disease.
Be proactive: If you start to have symptoms, see a doctor immediately. Regardless of its stage of development, treatment is essential to relieve symptoms and prevent the complications of this progressive disease.
Various treatments are available: Examples include venoactive medication, medical compression devices (stockings and socks), radiofrequency ablation, laser treatment, sclerothe.
AND SERVIER ?
To improve prevention and treatment, current research is exploring a number of avenues involving the molecular stages of the inflammatory processes and the physical modifications of the vessel wall structure. Here at Servier, we are working with doctors and scientists to deepen our understanding of this disease by identifying the molecular mechanisms at play.
We endeavor to provide patients with treatment for their symptoms at all stages of the disease and to create more suitable dosage forms. And we are embarking on innovative eHealth projects to optimize disease management and improve patient quality of life. In that sense, the MyHealthPartner website, developed by Servier, also offers a wealth of certified information on chronic diseases such as hypertension, enabling patients to better understand their condition, associated risk factors and symptoms.
*Among patients consulting a healthcare professional