At the ISHR-ES Annual Meeting in Hamburg, Germany on 24-27 July, Servier and the International Society for Heart Research – European Section (ISHR-ES) awarded a €30,000 grant to Dr Vasco Sequeira Oliveira, a young Portuguese doctor working in the field of cardiovascular research.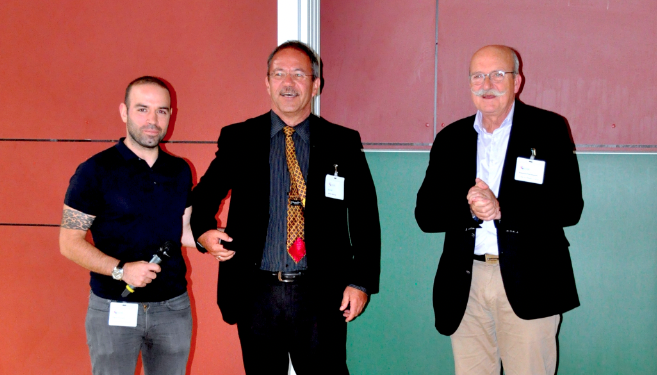 The winner 2017: Dr Vasco SEQUEIRA, accompanied by Dr Armin HARTUNG (Servier Allemagne) and the President of the ISHR-ES: Pr. Rodolphe FISCHMEISTER.
Dr Sequeira Oliveira will use this grant to undertake his research project entitled "Energy insufficiency-mediated ADP elevations as a cause of diastolic dysfunction" at Vanderbilt University in Amsterdam (Netherlands). Through his work, Dr Oliveira hopes to better understand the role of ADP[1] in diastolic dysfunction. This research could eventually result in the development of new therapies for patients with heart failure and a normal ejection fraction.
The Servier & ISHR-ES Research Fellowship programme was created in 2001 and is designed to foster the work of European researchers in the cardiovascular field. Servier has always placed cardiovascular disease, the leading cause of death worldwide, at the heart of its research and development activities.
Call for applicants for the Servier-ISHR Research Fellowship 2018
Applicants should be 35 years of age or less, have obtained their PhD or equivalent degree between 1 February 2017 and the application deadline, and be ISHR-ES members on the date of the application deadline i.e. 15 December 2017.
The planned research project must be completed within one year and should be presented at the 35th Meeting of the European Section of ISHR (16-19 July 2018, Amsterdam, The Netherlands).
Application deadline: 15 December 2017 
For more information, visit the ISHR website: www.ishr-europe.org
[1]Adenosine diphosphate (ADP) is a chemical substance that uses the energy released during various biochemical reactions to synthesise adenosine triphosphate (ATP).