Servier announces the opening of a worldwide Artificial Intelligence (AI) Hub, in partnership with Centech, in Montreal, a worldwide center for AI.
The Hub, which is the first international AI outpost of the Group, is being set up within the open innovation platform Collision Lab at Centech, a world-caliber incubator dedicated to high-tech businesses. The structuring has just been completed of a "data" team within Servier, which will be responsible in particular for development of initiatives in the field of AI.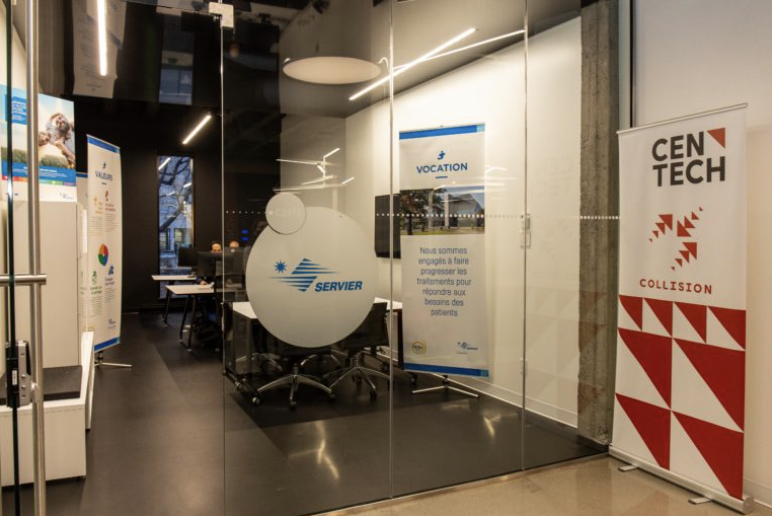 Insights from Virginie Dominguez, Chief Digital Officer, and Claude Bertrand, Executive Vice-President for Research & Development.
What are the goals of this Hub?
Virginie Dominguez: "The creation of this Hub is aligned with the global digital transformation strategy of the Group. To drive this transformation successfully, it is key to explore, to test, and to adopt new AI technologies in all their forms and for our various activities, including, obviously, R&D, but also for industrial and promotional activities, and for the Supply Chain.
The mission of the Montreal Hub, which will be part of Servier's Data Factory,1 is to test and explore more specifically the possibilities of using AI in the specific area of drug Research and Development.
The employees of the Montreal Hub, closely coordinating with the Head Office Data teams at Servier, will be tasked with setting up and maintaining interactions between the players in the local ecosystem and Servier's international R&D teams. Their mission will be to create links with the Canadian and American regulatory authorities in the AI area, and to carry out business intelligence activities within the Montreal ecosystem."
How can this Hub speed up our R&D?
Claude Bertrand: "The Hub fits in directly with the Group's global strategy and R&D strategy: focusing on oncology, speeding up R&D projects, registering a new molecular entity every 3 years… with the goal of making innovative medicines available to patients.
The AI Hub will make a contribution toward these goals by allowing us to accelerate certain R&D phases, such as research into molecules of interest or therapeutic targets, with a higher probability of success in clinical testing than with more classic research methods and an acceleration of R&D cycles. It will enable us to test new ways of working within an ecosystem of excellence, and to reimport good practices into the incubator of the future Servier Paris-Saclay Research Institute."
Why Montreal?
Claude Bertrand: "Canada has a unique ecosystem at the cutting edge of research in the AI area, relying on renowned experts, as much from an academic point of view as from that of a burgeoning ecosystem full of startups and biotech companies.
There is also a political motivation behind this ecosystem: Canada was the first country, in 2017, to develop a national strategy for AI. For 10 years the development of new technologies and public/private partnerships in this area has been a priority for Canada, which set up an AI ecosystem that favored synergy, and which seemed to us to be more organized and tighter than that in Silicon Valley, which we also considered as a place to set up our Hub. Finally, Canada sets itself apart by aiming for ethical AI, which fits in with the needs of the pharmaceutical industry."
---
1 The Data Factory brings together a group of Servier employees, within the Digital, Data, and Information Systems Division, in charge of data with a wide (360°) view, and of its governance, and the development of initiatives connected with AI.