Discover the two winning subsidiary projects for this year's Joint Initiatives.
In 2018, the Mécénat Servier Charity Fund launched its first ever subsidiary International Joint Initiatives. The aim: provide financial support to international charities while mobilizing Servier subsidiary collaborators on a long-term engagement project.
After receiving 10 project proposals, the Charity Fund Selection Committee nominated 2 finalists based on their innovative approach to help local communities! Here are their projects: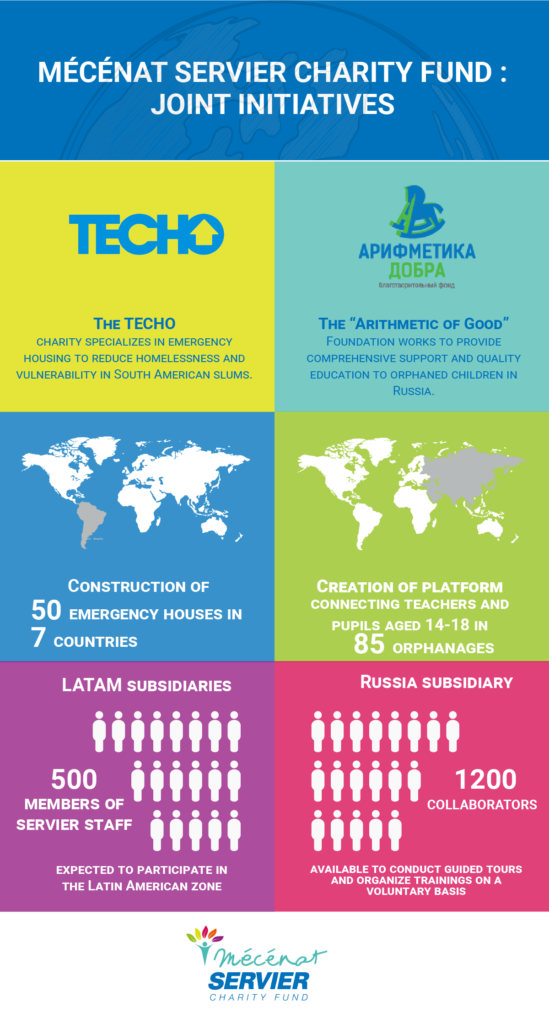 The TECHO charity specializes in emergency housing programs that aim to reduce homelessness and vulnerability in slums. Their program aims to strengthen families and communities living in extreme poverty across 19 countries in South America.
The project they are building with Mécénat Servier will finance the construction of 50 emergency houses in 7 countries which have a Servier subsidiary presence, namely: Brazil, Central America & the Caribbean, Mexico, Argentina, Colombia, Peru and Ecuador. Collaborators of these subsidiaries will have the opportunity to be directly involved by volunteering to build a house over a weekend. Each house requires 10 volunteers and two full days to build, after which the collaborators will deliver the keys to the family who will reside in the home they built.
Approximately 500 members of Servier staff are expected to participate in this initiative which would represent 30% of the total staff in the Latin American zone.
The Arithmetic of Good Foundation works to provide comprehensive support to orphaned children by promoting social adaptation, advocating a healthy lifestyle and improving the quality of education these children receive.
The initiative is aimed at providing individual continued educational support and socialization to children raised in orphan institutions across the country.
Particularly, for their partnership with Mécénat Servier and the Russia Servier subsidiary, the foundation widens opportunities to explore professions in pharma & medical industries through online educational platform (connecting pupils aged 14-18 within 85 orphanages in 28 regions, teachers and working professionals), digital tools describing medical/pharma related professions and peculiarities, off-line trainings and master classes.
Subsidiary collaborators – among the 1200 present on site – will be mobilized to conduct professional trainings in targeted regions and guided tours to Servier RUS site in Moscow to beneficiaries on volunteer basis.